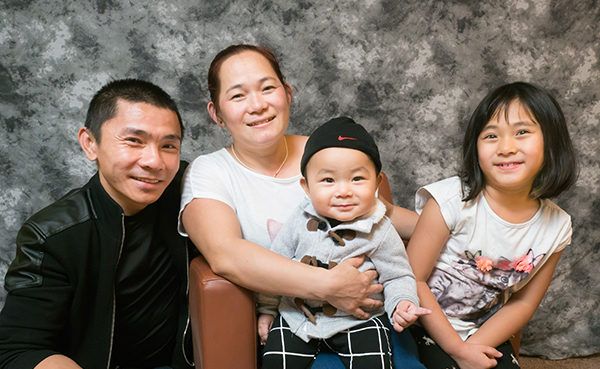 Meet Tara and Guarani
After spending more than 20 years in a refugee camp in Nepal, Tara and Guarani are happy to call Madison home. For the last eight years they've been extremely active in the community, as members of Bethel Lutheran Church, frequent visitors to the Madison Zoo and managers of a plot at South Madison Gardens.

My name is Tara M. Rai, and my spouse's name is Gaurani Rai. We have two children. Serene, is 7 years old, and Elliot is 8 months old. Serene is in second grade at Midvale School. She loves to spend time at school with her friends, and she likes to explore and learn new things.

My family likes to visit the zoo and the parks near Madison. At home, we like to play games and watch movies together. We have a plot at the South Madison Gardens and share some of the produce we grow with other members of the Bhutanese community. Our family attends Bethel Lutheran Church. On Saturday night, we have our own service in Nepali at Bethel. I work on Sundays, but my wife attends services and Bible study classes while my daughter attends Sunday school.

My family is originally from Bhutan, but we were forced to go to Nepal in 1992 due to the civil war. We had to leave our home, our land and all of our property. There were seven people in our family, my parents and five children. Our life as refugees was very difficult in Nepal. We lived in huts made of bamboo and thatch. In 1993, my father left to find work, but he never returned. My mom was left to take care of the five children. There were not many job opportunities for my mom, so she worked in a large garden picking tea leaves.

We lived in the camp for almost 20 years with the help of UNICEF, UNHCR (United Nations Human Rights Council) and Caritas Nepal (a social service arm of the Catholic church). My greatest opportunity was to go to school, even though I had to do my homework by the light of a kerosene lamp. Caritas provided education up to 10th grade, and I was very lucky to learn English. In 2011, my family was asked if we wanted to resettle, and we chose the United States. My mom, three brothers, wife, child, and I all came to Wisconsin. Lutheran Social Services, along with the sponsorship of Bethel Lutheran Church, helped us resettle in Dane County, and we have lived here for six years.

In our family, education is very important. We try to be good people by working hard and helping others.

We are thankful and excited to be chosen to receive a Habitat home. I want to share my skills by helping others and working on my own home. I look forward to learning new skills by working with the Habitat volunteers.

Homeownership is important to me, because I want my family to be safe and secure. I would like to live in a house that is clean and provides a healthy life. I am looking forward to having a yard for my children to play in safely, and I hope to have space for a garden. In our own home, our children will no longer have to share a bedroom. We will be able to stay in one place and have space for family gatherings.

We would like to thank Habitat, the sponsors and the many volunteers. We are very excited to begin working on our home and are so thankful and appreciative for this wonderful opportunity.