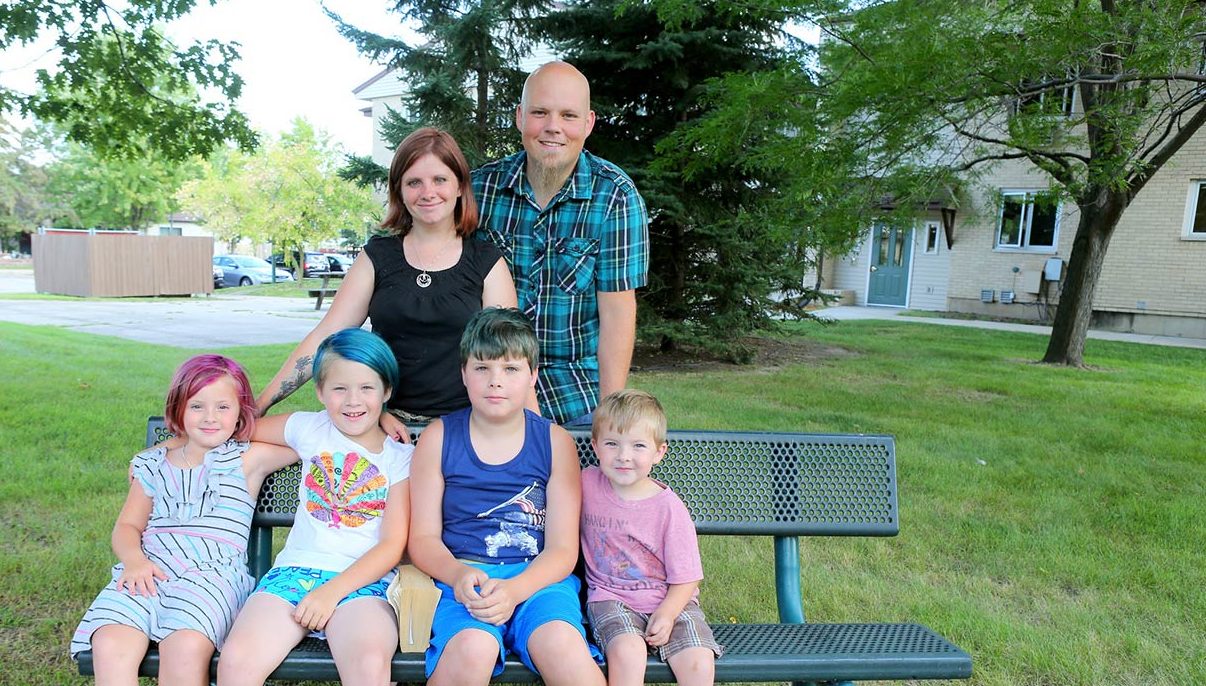 Meet Ryan and Kierstin
My name is Kierstin. My husband Ryan and I, along with our four kids, are so excited to have the opportunity to be a part of the Habitat for Humanity program. We never thought we would be able to qualify to own a home of our own. We're so blessed that we finally can with the support of Habitat for Humanity Dane County.

Ryan is what I like to call a Super Dad. He is hard working, providing everything our family needs financially. When he isn't at work, he is spending time with our kids, going for bike rides, working on bikes or tending to his garden. He is a member of Bike Fitchburg and loves volunteering and attending different events to help maintain area bike paths.

Dayne, our oldest, is 11 years old and in sixth grade. He enjoys reading, watching YouTube videos, biking and tinkering with toys in his room. He loves animals, with his favorite being wolves. When he grows up he wants to either be a YouTuber or have his own animal rescue. Dayne was diagnosed with Asperger's Syndrome when he was in the third grade. He has faced many challenges with school and has made huge strides over the last couple of years. Dayne looks forward to having our own home since it means that we can decorate it any way we want to.

Xander, our second, is 8 years old and in third grade. He enjoys biking with his Dad. He also likes Minecraft, playing soccer with his friends and hanging out with his siblings. He is such an intuitive kid, and what I refer to as my old soul. His favorite colors are basically every color in the rainbow. Xander is looking forward to having a house of our own and being able to have his friends over.

Serenity, our third child and only daughter, is 7 years old and in second grade. She is spunky, smart and tenacious. Serenity is quite the social butterfly and dreams of being a singer, songwriter, actress or lawyer when she grows up. No matter what she decides, we are sure that she will do great things in this world. Her favorite colors are pink, purple and Elsa blue. She loves playing with Monster High and Barbie dolls, as well as playing games with her brothers. Serenity is looking forward to having a house of our own, because it means she will get her own room and be able to have slumber parties with her friends.

Kellen, our fourth child, is 5 years old and started 4K last fall. He is such a loving, amazing little guy. He loves all things Batman and also enjoys riding his bike, playing with his siblings and cousins and spending time with animals. He is quite the character sometimes, and definitely has his own personality. He loves his snuggle time with Mom, as well as keeping up with whatever the rest of the gang is doing. He is excited about having a house because he really wants to play outside in his own yard.

Other members of our family include Charlie Chaplin, our 5-year-old cat, and Ruby Tuesday, our newest addition, a 4-month-old Puggle.

I'm a stay-at-home Mom. I enjoy painting, spending time with family and friends and going on bike rides. I have worked with two non-profits here in Madison called CAPW (Creating A Peaceful World), and WHOA (We Help One Another), in volunteer positions. Serenity, Kellen and I have a genetic disorder called Osteogenisis Imperfecta (Type IV). Although we have physical and medical limitations, it does not keep us down.

Ryan and I met when we were 16 years old. We worked at the original Culver's and became fast friends. We started dating just after we both turned 18 and have been together ever since. Just before our final year of college, we got engaged. The following May, after losing my step-brother in the Marines, we were married in my childhood church. My dad, who was a Lutheran minister and now chaplin, officiated, and we said "I Do" surrounded by immediate family, grandparents and a couple of our close friends.

A month and a half after our wedding, Dayne was born. A couple of weeks later, Ryan graduated from Herzing with his bachelor's degree in technology management and associate's degree in computer aided drafting and design. Unfortunately, due to having been put on bed-rest, I did not complete my early childhood education program at MATC. At the time Ryan graduated, the economy made it hard for him to find a job. He ended up working many temp-to-hire positions, but no one seemed to be hiring. In 2015, Ryan was offered a position designing space flight technology. He is still with the amazing company today.

Since Dayne was born, we have moved over 10 times. We have lived in four different school districts since Dayne started school. We did this so that we could afford housing and minimize Ryan's commute to work. In 2012, while living in Oshkosh, Kellen tested positive for elevated lead levels during a routine test done on toddlers. Our landlord at the time made no attempts to fix it, so we decided to look at moving back to Madison. Right now we are co-housing with my sister and her family on the southwest side of Madison. We have four adults, seven (soon to be eight) children, two dogs and a cat in the four-bedroom duplex that we rent together.

Getting a house through Habitat means so much for our family. It will be the first time all four kids won't have to share a room. It means stability and the kids not having to worry about moving to yet another school. It means all of us being able to establish lasting friendships and connections within our community. And it also means having a place to call and make our own. We are so grateful for this chance and are looking forward to all of the opportunities owning our own home will offer. Thank you, Habitat, from the bottom of our hearts.